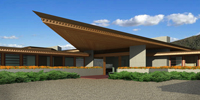 David M. Sanders, Architect, provides design, planning, construction documentation, visualization, full architectural services, and consulting. We specialize in 20th Century North American Modernist vernaculars, as well as Organic styles. Please explore our Projects page and see what we can offer.
Our firm uses state-of-the-art digital technology for all aspects of documentation. We are currently running on Windows platforms with ArchiCAD as our primary software coupled with the Artlantis rendering engine. These packages allow us to bring projects to a high order of development at an early stage of design and improve fidelity of the drawings to real world site conditions.
Thank You for visiting.
Licensed Architect; California and Hawaii.
Houzz