The Green Bath - Capistrano Beach, California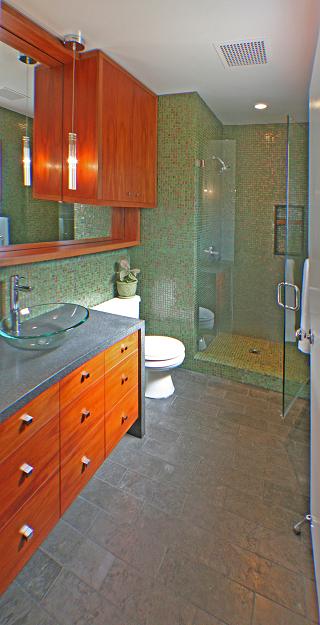 Entering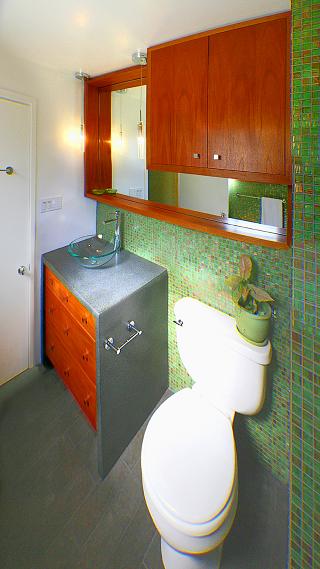 Inside
Program:
A small bathroom remodeling project for ourselves. Our master bathroom was in bad shape and needed work, so we stripped it to the studs and put in all new finishes and fixtures. It's amazing how much a single bathroom can enhance your overall happiness, especialy when it's built with no compromises and by very skilled craftspeople.
Tile work was performed by Joe Martin of Edgewater Tile & Marble, who gave us exactly the crafted look we wanted with the thin, glass tiles (which were not particularly easy to work with). He also worked closely with us on getting all tile joints to fall perfectly against the window casings and edge reveals of all the cabinetry. Joe's finished product is superlative - we couldn't be happier. Floors (also by Edgewater) are blue limestone, with some fun fossil inclusions. Joe and his crew cut the rectangular tiles from the much larger pieces we provided at only very small additional cost.
Glass work was provided by Larry Wohlfarth at San Clemente Glass; Note the tricky, 'L' shaped mirror, and the surrounding casework frame, which Larry and his men had to fit exactly, which they did.
The black granite pullman was crafted by Dave Ochoa and his crew, who also did a beautiful job for us. every joint is carefully mitered and finished, and extends under the toe kicks exactly as specified in our design. The final article appears absolutely monothlithic; A real work of art in stone.
Cabinets were built by myself, in a panic schedule to keep pace with the professional crews (I haven't seriously built cabinets for many years, so had to get up to speed quick!). Jim Glover was kind enough to let us salvage the teak lumber from a demolition on one of his own remodel projects, which we milled ourselves. The material was in good condition and we got the opportunity to recycle some good looking wood, with pieces large enough to bookmatch the pullman faces and match the grain on the overhead cabinet doors.
Thanks to all the crews for a job well done!