Ramona Cottage - Ramona, California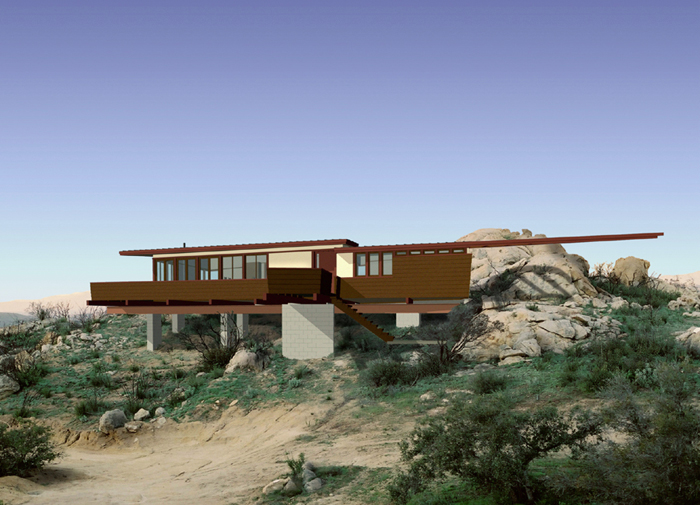 Road Perspective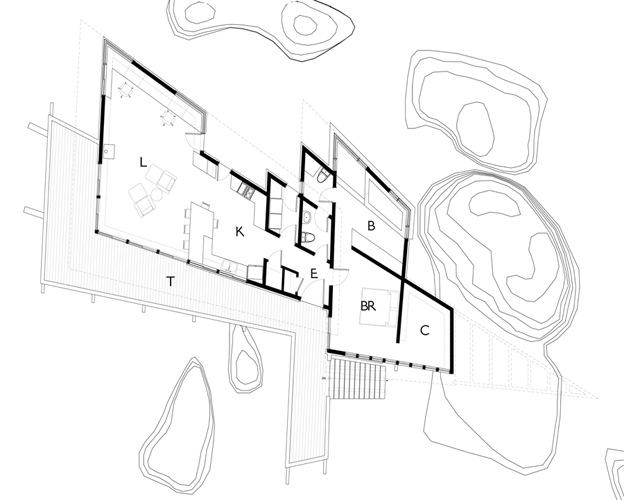 Floor Plan
Program:
One-story, 1,100 S.F. vacation cottage for speculation located near Ramona in north San Diego County, CA. Site is a remote 5 acre parcel and the rendering above depicts the true siting. Beautiful site? Oh, yes.. Very much so! Beauty you can only get in the 'boonies'. Views are stunning and the night sky is like ink.
This design uses Structural Insulated Panel (SIP)technology for the floor, exterior walls and roofs; the panels arrive at the site largely pre-cut into manageable sizes, numbered and ready for installation in a single truck-load. The simple pier foundation is bearing on solid rock for the most part, with some continuous footings and a low retaining wall at the bathroom. Roof is of shed style with 1 in 12 pitch broken into two panels; lower at the bedroom suite and higher in the living / workspaces.
The site is at high fire risk, so it utilizes a standing seam steel roof, and non-combustible siding at the terrace guardrail and closet elements. In this region, you do what you can to prevent fire damage and then cross your fingers!