Sanders Desert Residence - Joshua Tree, California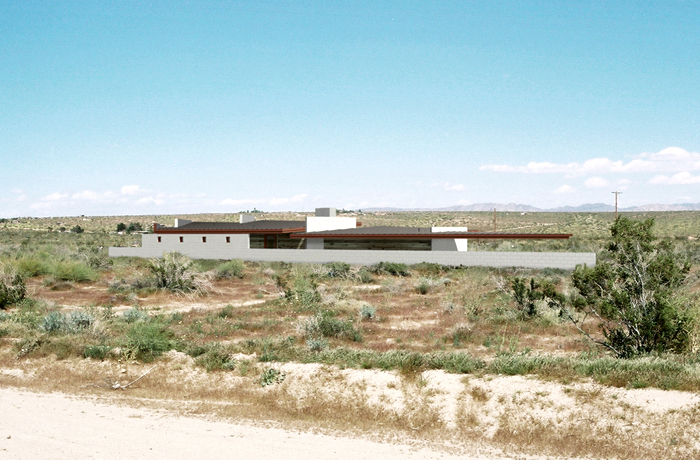 Road Perspective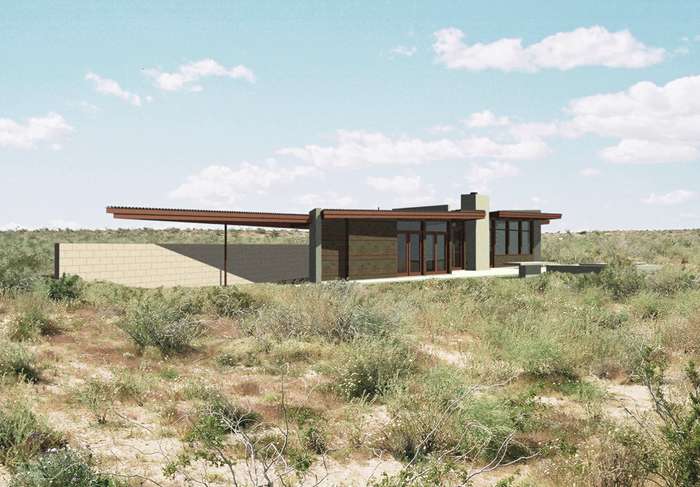 East Perspective

Floor Plan
Program:
The final scheme for our personal residence in Joshua Tree, CA. This design represents the Usonian ethos with a twist in the geometry. Single story, slab-on-grade, single surface roof / ceiling assembly and glazed doors opening to a communal garden area on the east side of the building. Emphasis is placed on the use of renewable, recycled and or 'green' materials and methods. The transverse 'fin' walls are 'Rastra' ICF block, the west-facing retaining wall is standard masonry units and the balance of the structure is completed with Structural Insulated Panels (SIP's). The SIP's come to the site pre-cut, numbered and ready for installation. They're very environment friendly, being made of recycled styrofoam and plantation wood for the OSB skins. Roof material is recycled corrugated steel, and the exterior siding will be recycled cedar from a demolition. To save money on a project (assuming you have the time and desire) you need to be able to do as much of the work as possible on your own, so all systems used on this house are designed to be 'handle-able' by two or three average people with the exception of the foundation. In our opinion, it really pays to have pros do your concrete work. Approximately 1,200 square feet living space, including the semi-detached guest house. Slated to begin construction about 2010!! We're excited, as this building will really encompass the final distillation of quite a few years of research, thought and progressive philosophy. Target budget is $60,000 at today's prices (mid 2005).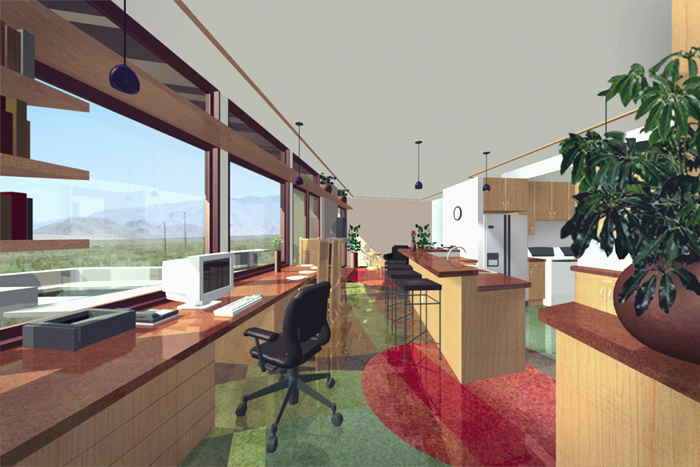 Interior walking from Master Bedroom into Office / Kitchen / Living space
Download a QuickTimeVR of the interiors here (2 Mb)
Requires Apple's QuickTime Viewer (Which you may already have, or it can be downloaded free from the Apple website.) Right click link and select 'open' to view in QT.